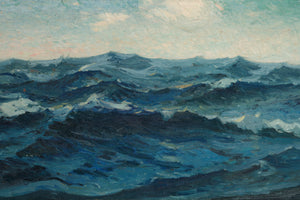 Blue Waters
Regular price $15.00 $15.00 Sale
Vintage painting of ocean waves.
Vintage images may have grain, cracks, scratches, etc. all kept intact for the character of a vintage print.
Digital Download comes with one jpeg image you can print in any size you like.
Ikea Flat Canvas Prints will be mailed to your home in 10-14 days. Free shipping to USA only. Shipping to Canada is $30. Please search "Canada" in the shop to add shipping charge to your cart.
You will need to purchase the Ikea Bjorksta frame. Assembly instructions included with your frame purchase. And you can check out our video tutorial on our instagram page @bffprintshop.
Please keep in mind that these are vintage images being blown up to a very large size. They will look great from a distance, but close up there may be some pixelation and/or grain.
All sales are final.