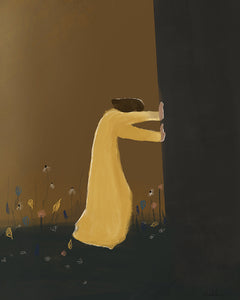 Take Heart
Regular price $20.00 Sale
That big, bold, obnoxious, pushy, huge cement wall…
Grief, heath problems, religious struggles, infertility, threatened freedoms, covid, depression, financial burdens, addiction, mental health, loneliness…
Though it may feel like the wall will never give way, one can gain great strength from pushing against it. It is tiring, but God will make it all worth it, and he will make it all ok.
 "If for a while the harder you try, the harder it gets, take heart. So it has been with the best people who ever lived." -Jefferey Holland
Collaboration with artist Olivia Schirmer.
You can follow her on Instagram here!
Digital Download comes with 2 jpeg images in a zip file.
Title 1: For 4:5 print ratios Ex: 5x7, 8x10, 11x14, 16x20, 20x24, and 24x30.
Title 2: For 2:3 print ratios Ex: 4x6, 8x12, 12x18, 16x24, 20x30, and 24x36.
Downloads are for PERSONAL use only. All sales are final.