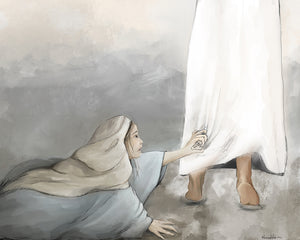 Woman with Faith
Regular price $20.00 Sale
20. behold, a woman, which was diseased with an issue of blood twelve years, came behind him, and touched the hem of his garment:
21. For she said within herself, If I may but touch his garment, I shall be whole.
22. But Jesus turned him about, and when he saw her, he said, Daughter, be of good comfort; thy faith hath made thee whole. And the woman was made whole from that hour.
-Matthew 9:20-22
Collaboration with artist Olivia Schirmer.

You can follow her on Instagram here!
Digital Download comes with 2 jpeg images in a zip file.
Title 1: For 4:5 print ratios Ex: 5x7, 8x10, 11x14, 16x20, 20x24, and 24x30.
Title 2: For 2:3 print ratios Ex: 4x6, 8x12, 12x18, 16x24, 20x30, and 24x36.
Downloads are for PERSONAL use only. All sales are final.